Daniel Arbili, 43, and wife Catriona, 44, were fighting over properties in France, £50,000 worth of watches, an Aston Martin, and the family's Grade II-listed home in Essex.
The assets were divided equally in 2013. But Mr Arbili, the former £120,000-a-year head of derivatives at JB Drax, has now appealed and claims new evidence suggests his ex-wife is richer than was thought.
He says emails have been found suggesting Mrs Arbili could have been in line for a windfall from the sale of her parents' £2.1 million home in St Paul de Vence, in the French Alps.
But at the Court of Appeal in London, her barrister Bruce Blair QC said this evidence was illicit because it was obtained in a "gross invasion" of her privacy. "The husband invaded the wife's privacy and did so by hacking her computer," Mr Blair told Lady Justice Macur and Sir Bernard Rix.
"This intrusion was far removed from something such as pilfering from a particular file from a particular drawer. This was at the worst end of invasion of the wife's privacy across the board."
The court heard the couple met in Monaco in 2002 and married in 2005. They lived in White Roding, Essex, in a home worth nearly £1 million.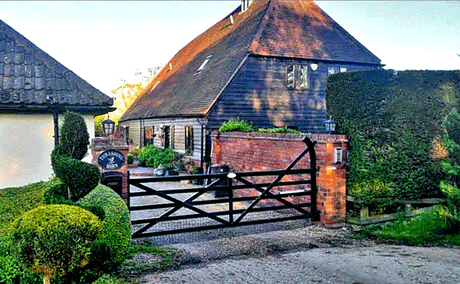 Asset: The £1.2million grade-II listed barn in White Roding, Essex (Picture: Nigel Howard)


But the marriage faltered and Mr Arbili, a former head of derivatives at XFA Global, left the home in 2012.
The couple divorced the following year, dividing equity in the family home, two French properties, the valuable car, watches, bonds and cash.
In proceedings in 2013, Judge Michael Horowitz said Mr Arbili should have a Cote D'Azur villa, in which his parents live, some development land in France and goods including the watches and his Aston Martin.
Mrs Arbili received the equity from the family home, another French property and a £140,000 lump sum to provide her with almost £600,000 to buy a new home.
But as Judge Horowitz prepared to formally deliver his verdict in late 2013, Mr Arbili tried to reopen the case, citing the new evidence. He claimed to have instructed a French inquiry agent, who put a private investigator on the trail of his wife's financial affairs.
Judge Horowitz refused to consider the evidence or reopen the case, which prompted Mr Arbili's appeal.
His barrister, Jeremy Hall QC, told the Appeal Court the outcome of the case was unfair to Mr Arbili, since it left his ex-wife with an unequal share.
Mr Hall argued that if the judge was not going to include Mrs Arbili's potential interest in her parents' home in his calculations, then he should also have left out the £300,000 Cote D'Azur property. It is in Mr Arbili's name, but  is occupied by his parents.
He said: "The division over-catered for the wife's needs and paid scant regard to the husband's."
But Mr Blair countered that Mr Arbili paid for his parents' home during the marriage, while his ex-wife's was paid for by her parents and her interest in it could be realised only on their deaths.
He said the evidence about a proposed sale was irrelevant, as it did not take place and, even if it had, the money would have gone to buying a new home for her parents. Judgment on the appeal was reserved until a later date.
Open all references in tabs: [1 – 3]