Ross Mcdonagh For Dailymail.com
40
View
comments
Kelly and Aimee Osbourne are selling their neighbouring West Hollywood homes at a loss.
The sisters have only lived next door to each other since July, when Kelly bought the house next door to Aimee for $2M.
The elder Osbourne bought her three bed, three bath house on the Sunset Strip back in 2007 for $2.3M.
Scroll down for video 
For sale: Kelly and Aimee Osbourne have put their neighbouring homes in West Hollywood on the market at a loss
But now the girls have both listed their properties for less than they bought them for, at $1.9M each.
As clearly evidenced by the photographs, the girls had been halfway through remodeling the houses when they appear to have decided to give up.
'Both are being sold as unfinished projects, as-is,' the listing advises. 'Sellers plans have changed and project halted.'
Fixer-upper: The two homes are being sold 'as unfinished projects, as is', according to a listings website 
Quit: The 'sellers plans have changed and project halted', the site advises, as it appears the sisters abandoned a remodeling project halfway through
Bad investment: Aimee bought her house in 2007 for $2.3M, while Kelly paid $2M even for hers in July
this may explain the lower price tags in such a highly sough area; the listings website claims the average house price in the surrounding Hollywood Hills is $3.4M.
Kelly's property is the slightly larger of the two, sitting on 11K sqft compared to Aimee's 10K, although Aimee's has an extra half bathroom.
Aimee meanwhile stands to lose $360K off the price she paid for it, while her little sister will only come out $1K in the red.
Fancy: Both three-bedroom houses boast a pool and a spa, and have 5.5 bathrooms between them
Home sweet home? Here is a poolside view of the other home's backyard
Let's eat! The breakfast nook looks out into the breezy backyard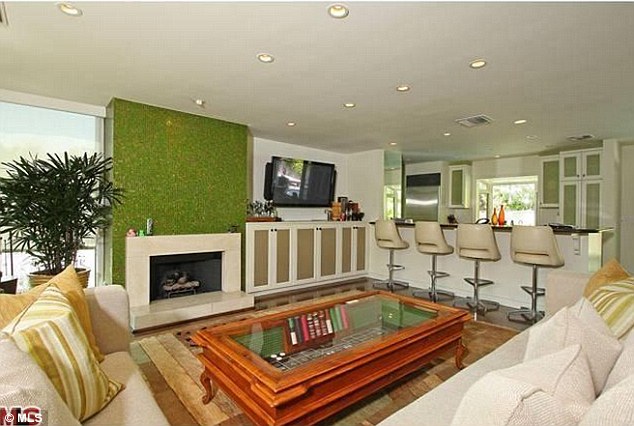 Memory: How Kelly's house looked when she bought it last year, before she embarked on her doomed renovation
Two-fer: Both homes are now for sale at $1.9M a piece, although they can be purchased as a single lot (before renovations)
A room with a view: A sectional couch made for a cosy centerpiece for the living room (before renovations)
Good night's sleep: One of the home's three bedrooms is spacious and opens up to the patio (before renovations)
Working hard: There is plenty of light in this office, which features a widescreen TV and book shelves (before renovations)
Both houses have a 'wonderful' pool, spa, and two car garage, with open patios, hardwood floors and wood-burning fireplaces.
And judging by the before and after pictures, they used to have a lot more furnishings in them too before the girls gutted them.
The two house can be purchased separately or as one lot, as long as potential buyers can stump up proof of funds by April 6.
Drop: Aimee stands to lose $360K on her investment while Kelly escapes just $1K in the red from hers (pictured)
Neighbours: The two houses are right next door to each other in the Hollywood hills, where homes currently fetch an average of $3.4M
Share or comment on this article
Comments (40)
Share what you think


Newest


Oldest


Best rated


Worst rated
The comments below have not been moderated.
The views expressed in the contents above are those of our users and do not necessarily reflect the views of MailOnline.
Who is this week's top commenter?
Find out now